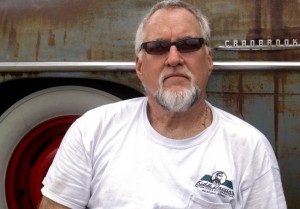 Ken Caskey grew up in south Florida building his first hot rod, a 1936 Ford two door slant back, in his parent's driveway when he was sixteen. He bought the car for $500, got it running with a 289ci. Ford motor and drove it to school every day of his Junior and Senior year in high school. Ken recalls: "I can't believe my parents let me take the body off of the frame and let it set on jack stands for months in front of the house until I got the car back together. That was in 1972-73. Nobody really drove hot rods anymore it was all about muscle cars then. I had the oldest car in the parking lot. It had only one bucket seat from an old Econoline van. When I went out on a date the girl had to sit on an old steel bait pail with a flotation cushion I barrowed from my dad's Jon boat!" Ken took an after school job at Mike Adams first rod shop called Adams Apples (which grew to be known as the nationally respected Adams Rod Shop in Mangonia West Palm Beach, FL). He worked after school and weekends doing bodywork on chopper frames, learned some custom painting techniques, and did airbrush work on Funny Cars like the Gold Coast Duster and Machine Gun Kelly's Vega.
Upon high school graduation Ken was convinced by his parents to be the first in his family to go to College. He sold the 1936 Ford and attended the University of Florida. He would return home for the summers to work at Adams Apples and graduated in 1978 with the degree of Bachelor of Arts in Design. He started an Advertising Agency in south Florida with a partner after graduation but continued to build his cars at night and on the weekends. The Ad Agency won many design awards for the work Ken himself did including the artwork and the official poster of the 1988 Coconut Grove Arts Festival. However, after six years of the business world grind, he decided to leave the Ad Agency. Ken remembers thinking: "I just wanted a fresh start, a change. So I moved to Melbourne Florida to be close to my family. I didn't know what would happen next but I knew I wanted to do something more constructive." Ken soon met Todd Hare a fellow hot rod enthusiast and the two opened a shop called Kidd Darrin's Custom Cars in 1991.
Together they built some great cars including a custom '51 Merc, a '41 Caddy fastback, a 1958 Chevy Pickup, and a 1936 Dodge Humpback Panel truck for a handicapped rodder with a hydraulically actuated rear door/ramp assembly and retractable driver's side running board. The shop moved to Melbourne from Rockledge in '95 and Ken took sole ownership of the business a year later. His personal like of old Cadillacs has earned him the nickname Cadillac Ken. He currently writes a monthly article entitled From Our Vintage Point and a column entitled Rods & Ends for the Cruise News magazine (see My Articles web page.)
Ken remains as enthusiastic today as he was when he started the business in 1991. He has often joked he will take the jobs most shops won't touch. He loves to be challenged and believes challenging himself is what keeps his work fresh. Ken stands on the premise that the build quality of every car is in the details. He is a perfectionist that insists that the words "that's good enough" are never spoken in his shop. Known and respected for his sheet metal fabrication talents, customers are most impressed with the patience and intensity he possesses. As a result many of Kidd Darrins Custom Cars' have been featured in a variety of magazines such as HOT ROD, RODDER'S DIGEST, STREET RODDER, and even CHROM & FLAMNEN (Chrome and Flames – Germany, Italy, Europe). His unique concepts and ideas together with his ability to engineer them into reality make Kidd Darrin's Custom Cars a standout in the Custom Car world.